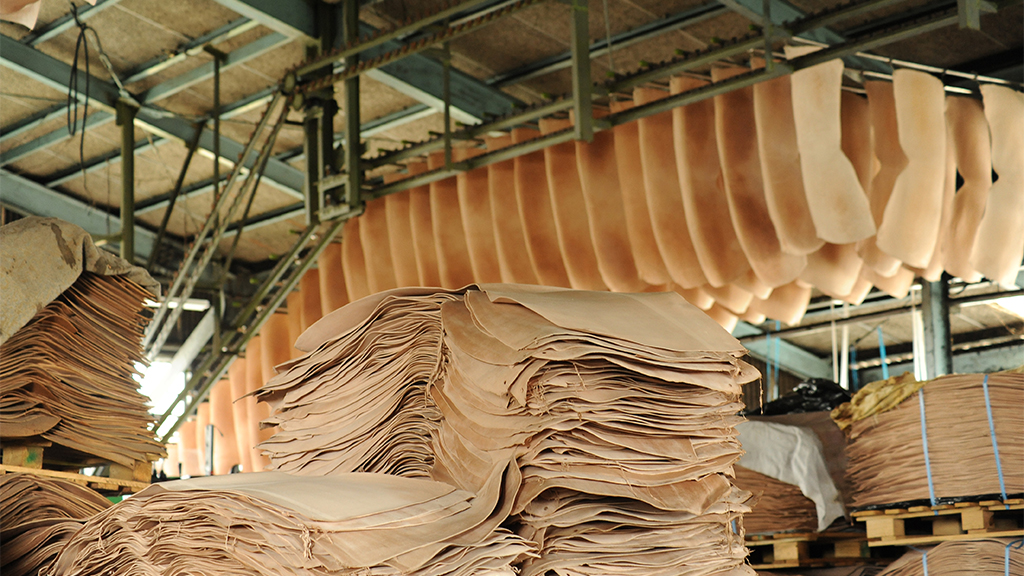 CORDVAN・・・ORIGINAL / OILED
The price of raw horse hides has soared in recent years, making it difficult to maintain a stable supply, and compared with other types of leather, horse hides require processing that is costly in terms of equipment and time. Owing to all these factors, SHINKI-HIKAKU is the only tannery in the world that is exclusively dedicated to the production of horse leather, including cordovan, using an integrated production process.
創Since its establishment, SHINKI-HIKAKU has been successfully producing and maintaining a stable supply of world-class SHINKI-HIKAKU cordovan based on more than 40 years of research and technological development.
SHINKI-HIKAKU cordovan is made from horsehide shipped by sea from Europe. After a long aging and tanning period, the dense fiber layer that exists only in the rump of horses is taken from the inner side of the hide, and then it further undergoes a painstaking process that includes aging and drying, resulting in a finished product that has taken a total of ten months to produce.
Also known as the "king of leathers" or the "diamond of leathers," the unique luster and dense texture of cordovan justifies these appellations.
SHINKI-HIKAKU produces two types of cordovan: Original Cordovan and Oiled Cordovan.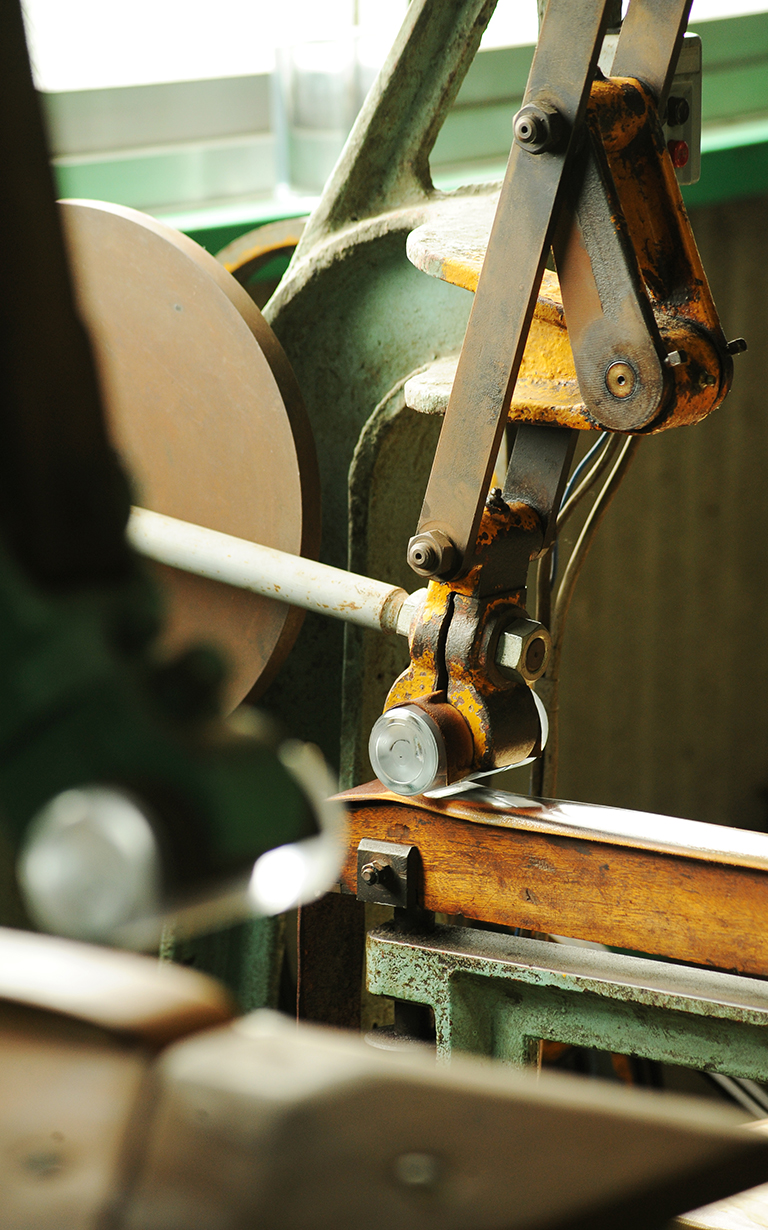 Cordvan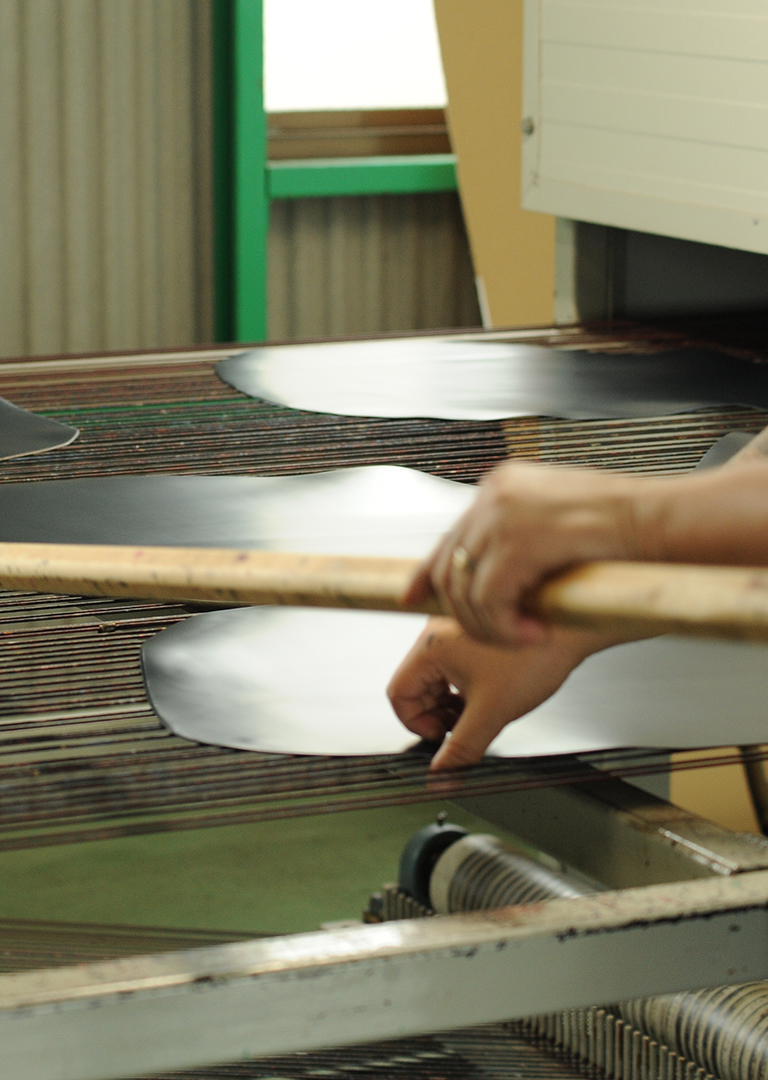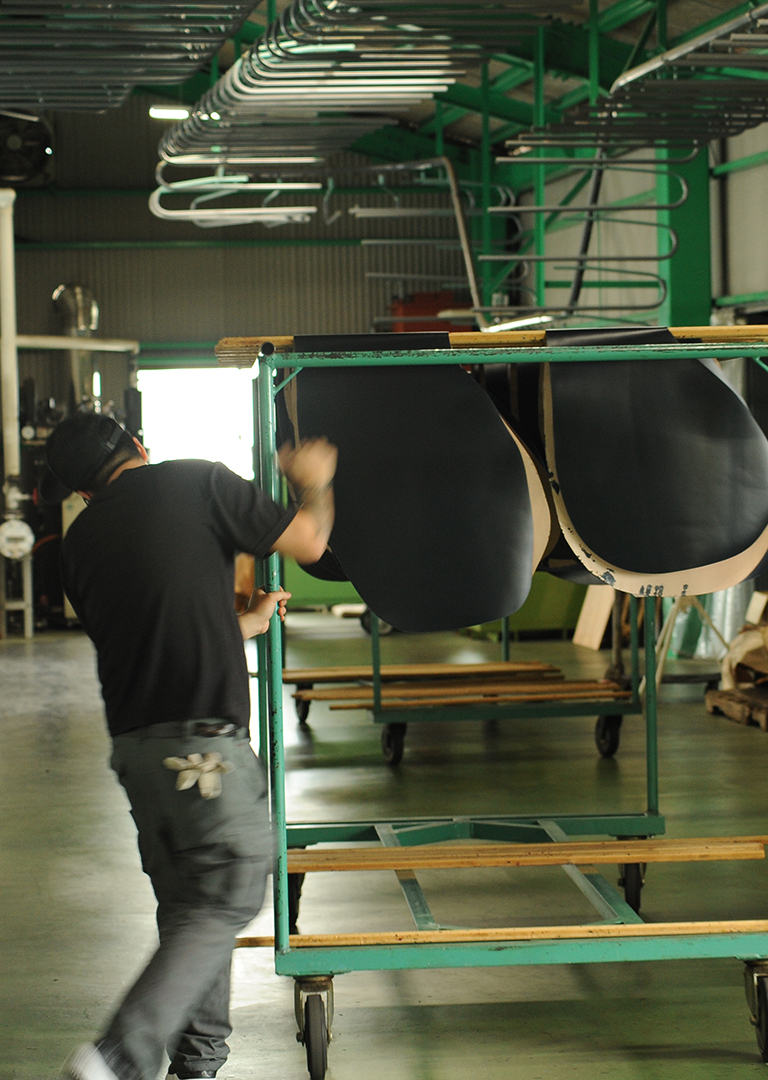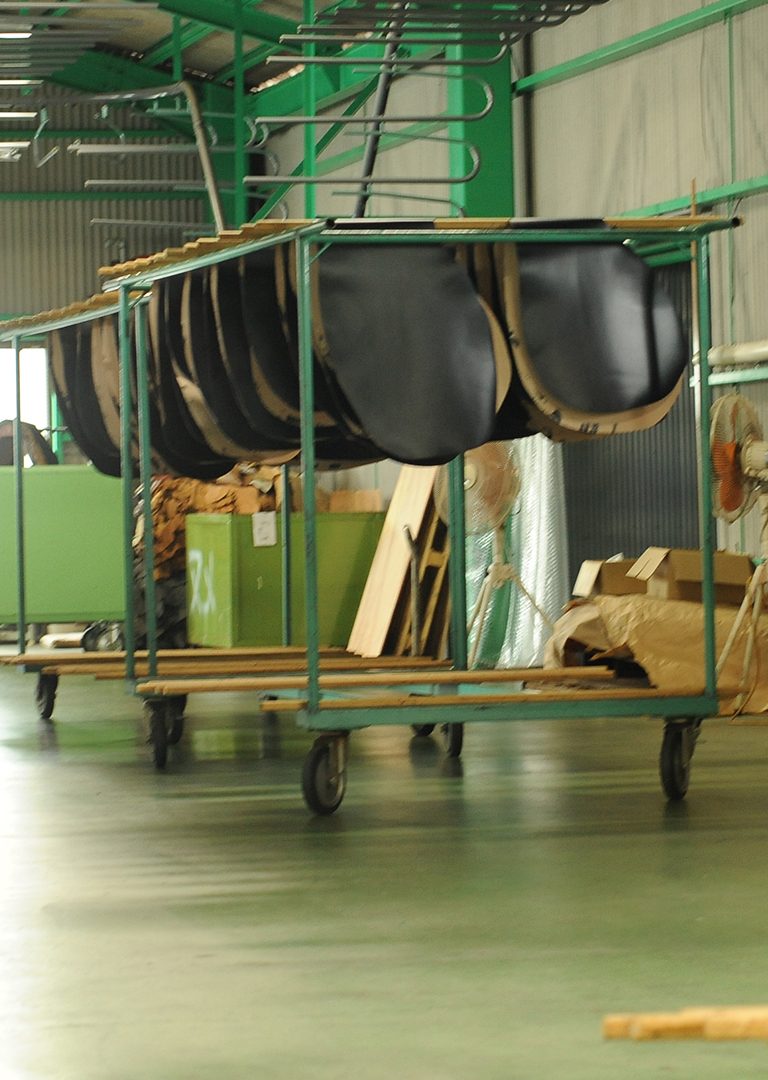 Original Cordovan
This type of cordovan uses pigments to create a beautiful surface by layering multiple coatings on the smooth surface.
In the final coloring process, the pigments are adjusted numerous times to obtain the perfect color, so the work is done in a place that is dustproof and humidity controlled.
For this process, craftspeople wear non-woven body suits and thorough quality control is carried out.
A special coating on the product prevents superficial scratches while the product is in use, while at the same time giving the cordovan a transparent look and allows it to age beautifully with use.
Original Cordovan can express a variety of colors with delicate tones, which makes it suitable also for light colors.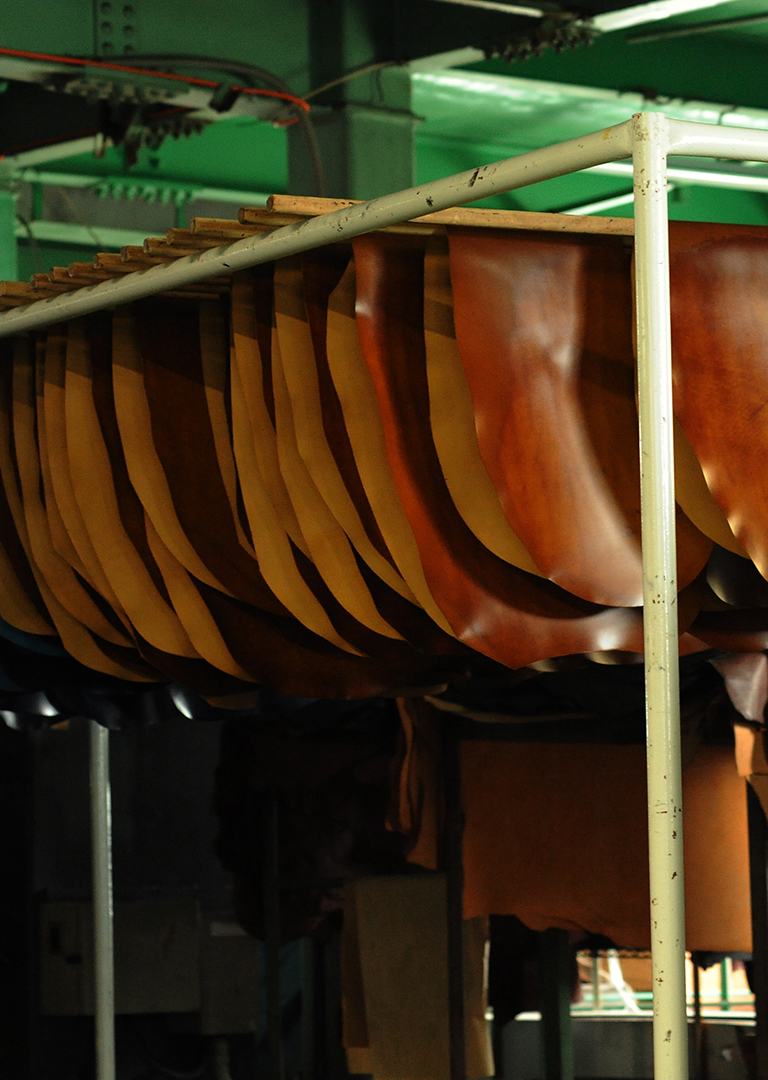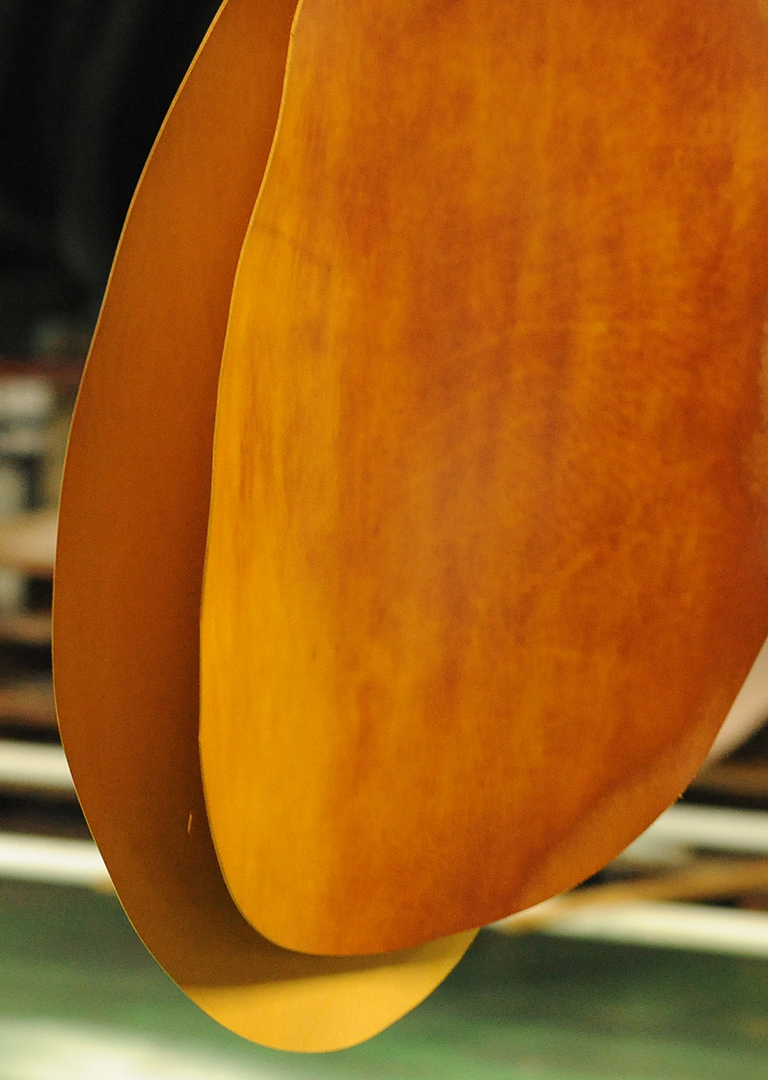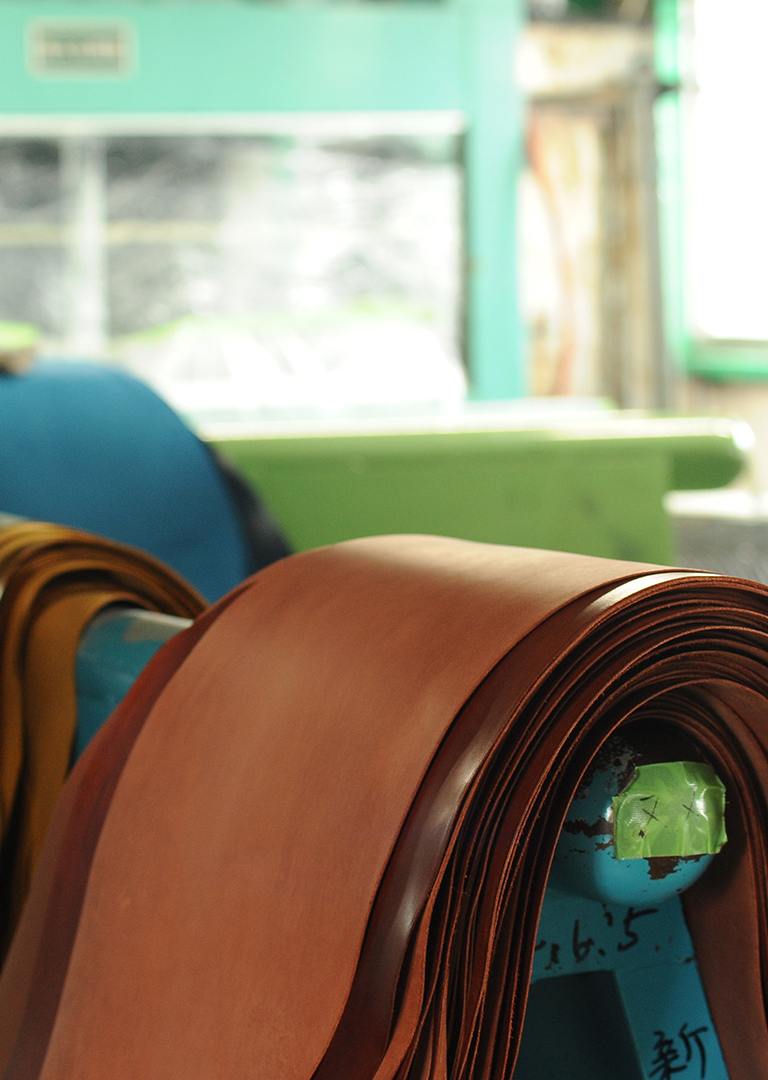 Oiled Cordovan
The characteristic transparency, luster, and depth of color of Oiled Cordovan are produced by a process called glazing, in which dyes are used to tone the leather, and then chemicals are applied to the surface of the cordovan, which contains special oils, and after they become fixed in the leather, the leather is rubbed and smoothed with glass rods. This process, which requires the application strength to be adjusted depending on the location even in a single piece of cordovan, requires expert craftsmanship.
However, this process alone does not produce gloss and transparency. Cordovan is finished in the hands of various craftspersons and the shine it gives off differs from that of other types of leather. This shine also comes from the crystallization of SHINKI-HIKAKU's more than sixty years of accumulated experience and our consistent attention to the least details, starting with the careful selection of raw hides.
The leather matrix presents slight rises here and there, and no two pieces of Oiled Cordovan are exactly alike. Moreover, horses being creatures that sweat a lot, one may see patterns of dots on the surface—these are sweat glands. They are proof that the dense fiber layer and surface are presented as they are.
The surface, which is treated with a dye finish, is very delicate, so please handle it with care.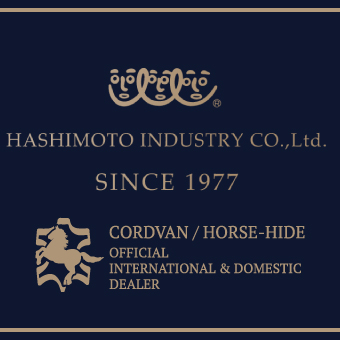 Hashimoto Industry
We recommend that you purchase our horsehide and cordovan products from Hashimoto Industry (hashimotoindustry.com).
Here is Hashimoto Industry Online Virtual exhibition & store.
https://hashimotoexhibition.com
Overseas customers should contact Hashimoto Industry's Osaka Head Office.
Tel: 06-6771-6911 / Fax: 06-6773-2296 / Business Hours: 9:00-17:00 (closed on weekends and holidays)